'Anguish' of missing student Jonny Dorey's mother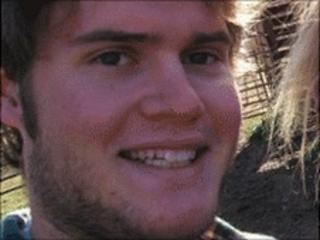 The mother of a student from Guernsey who went missing in the United States has described her anguish as the search for her son continues.
Jonathan Samuel Dorey, 22, was last seen on his Virginia Commonwealth University campus on 2 March.
Since then, a rucksack, personal items and clothing were found next to the James River in Richmond.
Debbie Dorey said: "We're just hopeful they'll find something... we've got this terrible cloud hanging over us."
Speaking publicly for the first time since her son's disappearance, she told BBC Guernsey: "Well, we're not really any further down the line four months later really.
"The FBI are out there now and there's been river activity so the media have picked it up again.
"They've done everything they can, the local police, the VCU police, are just doing everything they can for us but the FBI maybe have a bit more specialist equipment and if they see anything in the river then they'll dive."
She said family members were "just trying to live our lives as normally as possible".
Mrs Dorey added: "You wake up every morning thinking it is someone else's life, well I do, Alan [her husband] is occupying himself at work, Simon [their other son] has got lots of good friends and I'm sort of keeping myself busy in the garden and doing my guiding and just seeing friends and family really - supporting my mum, who is 87, and all the rest of the wider family as it is obviously affecting everybody."
She added: "Some days I say, 'blow it, I'm going to be happy today' and then you feel guilty sometimes for being happy. I've always grabbed life with both hands and you just have to try and keep that going."