Aberdeenshire Council to uproot old centre sign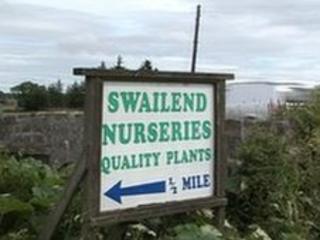 A garden centre owner has been told it is the end of the road for a sign he erected more than 50 years ago.
Aberdeenshire Council told Swailend Nurseries owner Mike Duncan to remove his sign because he failed to get planning permission for it.
The council argued the sign beside the A947 Aberdeen-Oldmeldrum road breached advertising rules, while Mr Duncan claimed it only gave directions.
He appealed to the Scottish government over the decision but lost.
He has now been given eight weeks to take it down.
The sign has been standing at the same location near Newmachar in one form or another for 53 years, although the wording has remained constant over that time.
A spokeswoman for Aberdeenshire Council said it had asked for the sign to be removed as it did not have permission to be installed and it did not comply with advertising regulations.
She said: "The location of where the sign was placed posed a potential distraction to users of the A947. We are pleased that the Scottish government has agreed with us on this matter."
Mr Duncan was not available for comment.