New homes hunt for zebra finches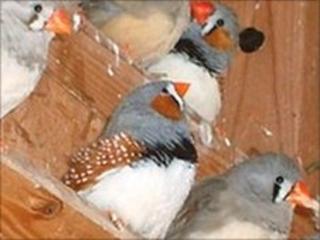 Homes are being sought for more than 300 birds after they were recovered from a bird lover in Fife who became too ill to look after them.
The zebra finches, which are all used to living in groups in an aviary, were taken away after their elderly owner contacted the Scottish SPCA.
They are now at the charity's Edinburgh and Lothians Animal Rescue and Rehoming Centre at Balerno, Edinburgh.
Officers want the birds to be rehomed in groups of 10 or 20.
Insp Steven Gray said: "The lady contacted us when, for health reasons, she became unable to continue her passion for her birds.
"She is an avid bird lover and has owned finches for many years. The number of finches in her care simply became too great for her to be able to give them the care and attention they deserve.
"We are inviting bird enthusiasts and aviary owners to contact us and offer homes to these beautiful zebra finches.
"Ideally we'd like them to be rehomed in groups of 10 or 20, but if there is someone out there with a very spacious aviary, or multiple aviaries, with the capability and resources to take on a larger number of birds, then we'd be delighted to hear from them."