Children paint insurance picture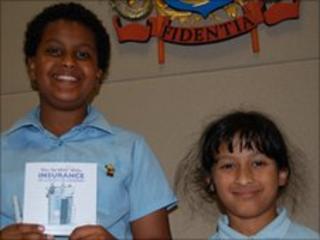 Ask any eight-year-old what an underwriter does, and they are likely to give you a very confused look.
Ask the children of Christchurch Primary School in East London and they will say they have written a book about it.
The youngsters have illustrated a new guide for school children explaining how insurance works and why it is important.
The publication was part of a community project run by Lloyd's of London.
Project
The class launched the book, which is part of the "How the world really works" series, at a book-signing session at the Lloyd's of London headquarters.
At the launch, nine-year-old Nathan - who moved to London from Ethiopia six months ago - explained what he had learnt about insurance.
"When you need stuff to be saved, then you can make it insured," he said, proudly holding the book which has his drawing on the front cover.
Vicky Mirfin, manager of community affairs at Lloyd's of London, said that members of staff had been to the school in neighbouring Tower Hamlets to help teach about money matters.
The children had a tour of the building as part of the project, and nine-year-old Niha said they were surprised how the working environment was different for the previous generations.
"We saw a picture with only men working here and no women," she said in a speech at the insurance market's headquarters.
"I am surprised they got any work done!"