Cross-border justice group meets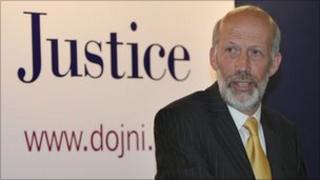 A meeting of the Cross-border Criminal Justice Ministerial group has taken place in County Louth.
Northern Ireland Justice Minister David Ford and Irish Justice Minister Dermot Ahern attended the first formal meeting of the group.
The two ministers discussed a range of issues at the event in Carlingford.
These included cross-border issues in relation to sex offenders, forensic science services and youth justice.
On Friday, the ministers said they had agreed a work programme setting out key priorities for the next 12 months.
Speaking after the meeting Mr Ford said: "Co-operation between criminal justice agencies is critical.
"Both Dermot and I are committed to working closely together to ensure that criminals do not use the border to escape justice."
Mr Ahern said: "This was a very useful meeting.
"There is a real closeness in North/South relations in the justice and policing area that can only be to the benefit of the wider public on both sides of the border."