'Cut off' Penmaenmawr hopes for a lift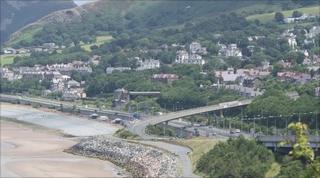 Organisers hope a produce and craft event in the Conwy seaside town of Penmaenmawr will boost its fortunes by growing into a regular fixture.
Penmaenmawr Tourist Association says it has suffered since the A55 opened in the late 1980s.
Despite being given a facelift in recent years, the town feels "cut off," according to one businesswoman.
Penmaenmawr was once a popular holiday destination, especially for Victorians who took advantage of the railways.
More recently community groups such as Pen in Bloom have been working to improve the environment.
Last year a piece of overgrown land was turned into a "quarry garden" in the town centre.
Despite the visual improvements, the tourist association says more people need to visit the town.
The bypass had "catastrophic results" for the town, according to Lesley Cockings, the association's treasurer.
'Magnificent refurbishment'
"The village centre has had a magnificent refurbishment but still the village is struggling," she said.
"We have, in my opinion, the best beach on the north Wales coast, which has received the blue flag award for the last six consecutive years," she added.
Ms Cockings said that the idea was to keep the theme local and that the event would gradually grow from small beginnings.
There will be craft and produce stalls, ranging from jewellery to vegetables at Pant yr Afon.
Dilys Roberts, who runs a hairdressing business and is a member of the tourist association, added: "We're hoping it will become a monthly event, which will be a lot of work, but all the local shops are behind this".
She said the A55 had made the town feel "cut off".
"It's OK for some things, but really the town has suffered. We'd grown used to the queues through the village, it's like a grave here now.
"Once you could barely walk across the road, now you can take a leisurely stroll, businesses have suffered," she added.
Saturday's event is between 1000 and 1400 BST under the veranda in Pant-Yr-Afon in the centre of the village.