Care lacking for bereaved parents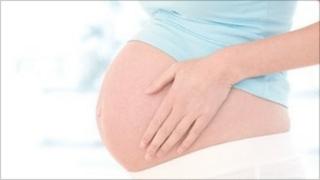 More than half of maternity units are still lacking a dedicated bereavement support midwife, a survey suggests.
The stillbirth charity Sands also found that nearly half have no specific room on the labour ward for a mother whose baby has died, where she is shielded from the sounds of other newborns.
Seventeen babies are stillborn or die shortly after birth a day in the UK.
The Department of Health said it wants "high quality maternity services everywhere with the right facilities".
The midwives' body agreed more needed to be done to care for bereaved parents.
Just under 80 units responded to the Sands' survey, a quarter of the total contacted. The charity said it considered the low response rate indicative of the low priority the issue was given.
Some 52% of those which replied were without a midwife specifically trained in bereavement care.
This was not something that was simply "nice to have", the charity said, but a key component of care.
Mixed care
"Good care cannot remove the pain of parents' loss but poor care makes things worse and affects their short and long-term well-being," said report author Judith Schott.
Bereavement midwives may also make it more likely that parents opt for a post-mortem examination, a process which could uncover the reasons for death and contribute to a greater understanding of why some babies who enter the labour process in apparently good health die.
The charity did note that care for bereaved parents had improved in recent years, but said its survey showed care was still patchy and under-resourced.
There are no national standards for the care of parents who have lost a baby, but there is general agreement that a dedicated midwife as well as facilities to accommodate the bereaved are desirable.
Less than half - 45% - of wards had no dedicated room on the labour ward for a mother whose baby has died, where they cannot hear other mothers and babies.
This is key, Sands says, because the sights and sounds of women and families with healthy babies add to the anguish and distress of already distraught families.
In a small number of units women having a miscarriage were cared for in areas that were unsuitable, such as a medical or general ward or an A&E department.
The survey also uncovered issues around language, with a small proportion regularly using children to translate, potentially causing distress.
The charity also reported a lack of information in suitable formats for parents with sight problems or learning disabilities.
The number of stillborn babies has started to fall following a high in the first part of the decade, but campaigners note it is simply back to where it was at the end of the 1990s.
Simple changes
In 2007, the last year for which figures are available, there were 5.2 stillbirths per 1,000 births.
The reasons for stillbirths are often unclear but links with age, ethnicity and social deprivation have been suggested.
Public Health Minister Anne Milton said: "While Sands has found that care provided to bereaved parents has improved over the last 20 years, there is still more to do.
"We want to see high quality maternity services everywhere with the right facilities, networks and trained staff to support parents and families when a baby dies," she said.
"The rates of stillbirth in the UK may mean midwives can have limited experience in caring for bereaved families," said Gail Johnson of the Royal College of Midwives.
"This is why it is so important that services are developed and commissioned to meet the needs of parents who experience stillbirth or neonatal loss.
"Also, relatively simple changes to the delivery of care can make a significant difference to parents.
"Providing choice as to where the birth and postnatal care takes place and ensuring that there is written information to back up what is said to parents can help."