'First commando' remembered 70 years on in Guernsey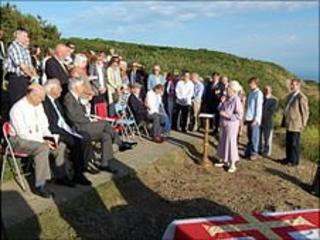 A stone commemorating the 70th anniversary of the first commando raid on Guernsey, during the German Occupation in WWII, has been unveiled.
About 100 islanders attended the ceremony on Thursday remembering the reconnaissance mission by Guernsey born Lieutenant Hubert Nicolle.
The stone was unveiled by Bailiff Sir Geoffrey Rowland who called Lt Nicolle "one of Guernsey's greatest heroes".
Lt Nicolle has been dubbed 'the first commando' for his daring solo mission.
He was sent on 8 July 1940 to find out what effect the German Occupation, which had started on 30 June, was having on the island's population.
The commemorative stone was placed at Icart above Le Jaonnet Bay where he came ashore and where he was picked up from by the Royal Navy three days later.
This was the first of a number of information raids on all of the Channel Island throughout the occupation.
Lt Nicolle returned in September 1940, but on this trip was forced to give himself up to the German authorities.
He managed to escape from Spangenberg PoW camp through a tunnel only to be recaptured and was held for the rest of the war until he was liberated by American forces in 1945. He died in 1998.