Cameron says axing school buildings plan 'unpopular'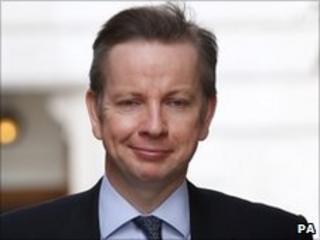 David Cameron has acknowledged axing school building projects is not "easy" nor "popular" as the political row over the government's plans has continued.
The prime minister said the decision was necessary because of the financial "mess" left by Labour and its failure to be open about where cuts would fall.
Some Tory MPs say they are worried about the impact in their local areas.
A Lib Dem minister said the coalition's "credibility" may be at risk if alternative funds are not found.
The government has been under growing fire since Education Secretary Michael Gove's announcement earlier this week that more than 700 projects would not go ahead under the previous government's Building Schools for the Future (BSF) programme in England.
'Difficult decision'
But the Department for Education's list of 1,500 projects which were either going ahead, being axed or being reviewed contained 25 mistakes and Mr Gove was forced to apologise to schools which had been wrongly informed.
Speaking at a school in Cornwall, Mr Cameron said the decision to discontinue the schemes had been "very difficult" but blamed the previous government for planning 50% cuts in capital expenditure without giving any details of where.
"We have come in, we have inherited this situation," he said. "Half of the school projects will go ahead but half of them can't go ahead.
"We have had to announce what those are. Now that is not easy and I know it is not popular. But it is because Labour government left the country in such a complete mess, with the biggest budget deficit in the G20."
He stressed "this does not mean we cannot have more money going in for future schools and we can do that but it does mean we had to say very clearly these projects cannot go ahead because there isn't any money".
Two Tory MPs - Ian Liddell-Grainger and Gordon Henderson - have expressed concerns about the impact of the plans about schools in their constituencies and said they are considering lobbying ministers over the issue.
'Real need'
And Lib Dem MP Nick Harvey - who is armed forces minister in the coalition - has written to Mr Gove to urge a speedy review of alternative sources of funding for schools which have lost out.
"I accept that putting these projects on hold in light of the current deficit, or pending a review of how to achieve best value from such a programme, can be justified but that does not mean that the basic problem of inadequate school buildings disappears," he wrote.
Mr Harvey said it was important for the morale of pupils, teachers and local communities that the "real and obvious" need for new buildings was acknowledged and "alternative mechanisms put in place at the earliest practical moment".
He added: "I also think that such a course of action is important to the credibility of the government, as unnecessary delay will only breed an atmosphere of cynicism."
'Botched'
Shadow Education Secretary Ed Balls has called on Mr Gove to withdraw the "error-strewn" list of building projects, saying he had spotted a further four errors and that parents could no longer have "confidence" in it.
He also called on MPs to investigate the chain of events which led to its publication.
"This is a botched and thoughtless announcement caused by the government's desire to rush through deep cuts to frontline services," he said.
The BBC's Political Editor Nick Robinson said the row over the school building cuts was the tip of the iceberg in relation to unease about the prospect of future 25% proposed cuts in department budgets.
The leader of the Liberal Democrats in Liverpool has said the party could be "wiped out" within five years due to its association with decisions taken by the coalition government.
Councillor Warren Bradley said cutting the building programme was "abhorrent" and could turn voters away from the party.