Prince Charles landscape at Ryder Cup exhibition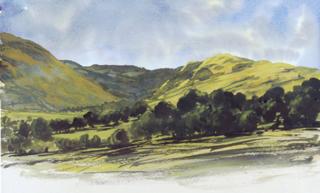 A watercolour painted by Prince Charles of a Cambrian Mountain scene is to be shown in a Ryder Cup exhibition.
The landscape of Cwm Berwyn will be shown at the Denise Yapp gallery in Whitebrook, near Monmouth, in the lead up to the golf tournament in Newport.
It will then be exhibited, alongside other works by major UK artists at her gallery at The Celtic Manor Resort during the tournament.
Works on show will reflect elements of Wales.
The Prince's work is normally only displayed at Highgrove, his home in Gloucestershire.
The Cambrian Mountain scene watercolour will be shown alongside pieces from up to 30 other leading artists including Sir Kyffin Williams.
Ms Yapp said: "I understand that Prince Charles was initially taken by the fact that we have a gallery right at the heart of the Celtic Manor Resort and that we are staging an exhibition with a distinct Welsh theme during the Ryder Cup.
"There is no way of describing this other than it being a real honour. It's fantastic for the gallery and also for Wales during the Ryder Cup."
The gallery will be selling limited editions of lithographs of the work in aid of The Cambrian Mountain Initiative.
Prince Charles is president of the project which aims to help promote rural enterprise, protect the environment and add value to products and services of the traditional upland farms and rural communities in mid Wales.