New ITV breakfast show to be called Daybreak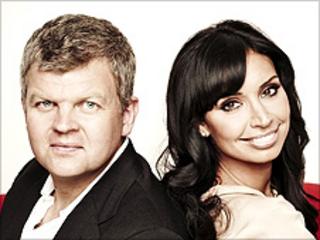 ITV's new breakfast show, to be hosted by Adrian Chiles and Christine Bleakley, will be called Daybreak.
The new-look programme, which is due to replace GMTV in September, will come from brand new studios.
GMTV and ITV daytime director Alison Sharman said the revamped programme is "our bid to reclaim the top breakfast show spot".
Lorraine Kelly will continue to host a magazine show which will form part of the early morning schedule.
'Lagging behind'
The Scottish presenter, who helped to launch GMTV in 1993, said: "I love breakfast TV and I am absolutely delighted to be continuing with my own show."
Chiles and Bleakley, who left the BBC's One Show to join ITV, "will be the lynchpins of Daybreak with their unique and brilliant partnership", said Ms Sharman.
The pair will be joined by a team of special correspondents who will shape the news agenda on the programme.
Entertainment content, interviews and lifestyle features are also expected to form part of the show.
Ms Sharman also admitted that GMTV "has been lagging behind its competitors in recent years".
"We want to ensure that the core audience of housewives with children keep watching, but are also determined to attract new viewers to our revitalised breakfast show," she added.
Plans to overhaul GMTV have prompted a number of its current presenters to leave the programme, including Ben Shephard and Andrew Castle.
Penny Smith, who had been a familiar face on the breakfast programme for 17 years, made her final appearance on the famous sofa last month.
Bleakley was due to continue hosting The One Show until September, but the BBC has announced that she will not be returning to the teatime programme.