Animal ban for man whose dog got trapped in air vent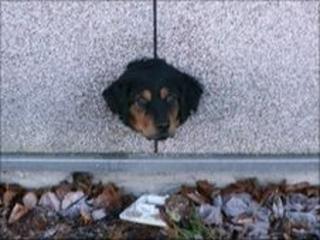 The owner of a dog found with its head stuck in a vent trying to escape from a locked house has been banned from keeping animals for five years.
Montgomery Wandera, 24, of Biscot Road, Luton, was also ordered to carry out 100 hours of unpaid work.
He was told to pay £500 court costs by Luton magistrates on Thursday.
The RSPCA said it was called after the Rottweiler cross got stuck in a tumble dryer air vent in Thricknells Close in January this year.
The head was poking out of the external wall.
Firefighters and council officials were called out to help free the distressed dog, the RSPCA said.
'Away with friends'
When Inspector Mel Fisher looked inside the flat she found faeces on every floor and that the dog had no access to food or water.
The female dog, named Nikita, had been left alone for two days.
Wandera pleaded guilty at an earlier hearing to causing unnecessary suffering "by reasonably confining it in an environment that was detrimental to its well-being".
In mitigation, Wandera said he had been away with friends and tried to get back to attend to the dog but had been delayed after their car had broken down and he was stranded.
He said could not cope with the dog and knew he had let the animal down.
Ms Fisher said: "The owner failed in his duty of care for the dog as it was left unattended for two days and had its head caught in the same hole on a previous occasion."
The dog, renamed Bounce by the RSPCA, has now been rehomed.