Smartphone firms face patent row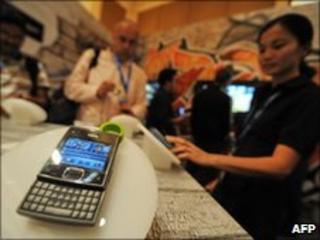 A firm that won more than $600m (£398m) from the maker of the Blackberry after accusing it of breaching patents has now sued six other smartphone firms including Apple and Google.
NTP says that the firms, along with HTC, Microsoft, Motorola and LG Electronics had infringed patents on wireless email technology.
The same patents were at the heart of the case against Blackberry maker Research In Motion (RIM).
That dispute was settled in 2006.
All of the companies named either make smartphones or the software used in smartphone applications.
There were no comments from any of the firms accused in the lawsuits, which have been filed in a Virginia district court.
'Resolution'
After the RIM settlement, which saw the Canadian firm pay out $612.5m, NTP's patents were re-examined by the US Patent and Trademark Office.
Many were thrown out, but NTP's president Don Stout said three had been upheld.
"We hope we can resolve these cases without having to go to trial," he said.
Suing for breach of patent is not new in the world of Smartphones.
In May this year, for example, Nokia, filed its latest lawsuit against Apple claiming the iPad 3G and iPhone infringed five of its patents.