Newspaper review: Papers focus on Moat manhunt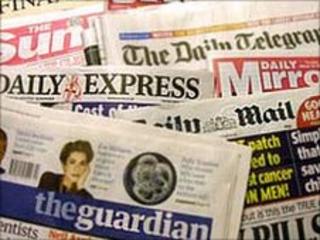 The news Raoul Moat shot himself after a stand-off with armed officers came too late for most papers which focus on the police manhunt in Northumberland.
The Daily Mail examines the former bouncer's use of steroids.
The paper asks if the drugs may have contributed to his actions and suggests that the mental effects of steroid abuse are difficult to quantify.
It believes events in the town of Rothbury should serve as a warning to those tempted to use steroids.
Spy swap
Writing in the Guardian, John Le Carre is unimpressed by the 10 spies handed over to Russia by the US yesterday.
He says there was once a choice between capitalism and communism, but now both Russia and the US are "drowning in the oily waters of capitalism".
The Daily Mirror reveals that spy Sergei Skripal could help identify dozens of Russian agents in the UK.
The paper quotes a former MI5 officer who describes the freeing of Skripal by Russia as "a real coup for the west".
War memories
The Independent asks whether men accused of rape should stay anonymous.
The paper tells the story of Jason Duncan, 22, who was acquitted of rape in March. He says he is fighting to get his job back and requires counselling.
Seventy years after the Battle of Britain, the Times pays tribute to the men it calls "the forgotten aces who liked to fly alone".
The paper says that accounts of heroism and skill of the airmen acquire a sharper focus with every passing year.
Labour memoirs
The Daily Telegraph says the national census is to be scrapped after more than 200 years.
The government believes it is an expensive and inaccurate way of measuring the population, it claims.
The Times leads with revelations from Peter Mandelson's memoirs.
Mr Mandelson tells the paper that he, Tony Blair and Gordon Brown were involved in a feud which seriously affected the government's ability to function during Labour's height.