Cardiff traders' hope for St Mary Street upgrade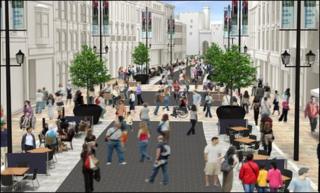 Traders on one of Cardiff's main streets hope work to pedestrianise it will be completed as quickly as possible to ensure their businesses survive.
Work to pave St Mary Street is starting after builders completed the pedestrianisation of adjoining High Street.
Cardiff council hope the work will be finished in October for Christmas shopping.
Shop owners say they are "struggling".
Since February, work has been taking place repaving from the top of High Street, which leads onto St Mary Street.
The work has now been completed and the second phase is starting, continuing the scheme into St Mary Street up to Guildhall Place.
The council said the pedestrianisation and paving of the street - which links the railway and bus stations with the rest of the city centre, including the new St David's Centre and John Lewis store - will create a better place to live, work, shop and to visit.
It will also reduce traffic, air pollution and noise levels, it added.
Councillor Delme Bowen, executive member for traffic and transportation, said: "With Phase One nearing completion everyone is starting to see just how stunning High Street and St Mary Street will look when this work is completed."
Traders say the work so far has improved High Street but claim they have suffered because it took so long for the work to start after traffic - apart from buses and some taxis - was banned from the road on an "experimental" basis three years ago.
'Short term pain'
George Osztreicher, owner of Cranes music store on High Street and spokesman for the High Street and St Mary Street Retailers Association, said he welcomed the council's decision to complete the building work "with haste" - but said it may be too late for some businesses.
"The work that has been done looks great, sadly it took over three years from the original street closure for the experiment," he said.
"In that time the street has lost it trade, and sadly some retailers.
"Our own, Cranes, is some 40% plus down since the "experimental" road closure started.
"The John Lewis effect never really touched any of us, and now we are all struggling because the shoppers have deserted the street in great numbers, and we fear it will take a very long time for businesses to return."
But Bob Channing, manager of Barkers clothing store on High Street, said he thought the new-look street would bring benefits to both the shops and the city centre as a whole.
"When work first started it was hard going because of the digging, the tractors, the fencing... it was a nightmare. But now it's done I think it's going to be beneficial," he said.
"It's more relaxed outside, it's more open, there's no buses, no cars. I would say to the businesses further down St Mary Street that it should be short term pain for long term gain."