Families with disabled children 'going without food'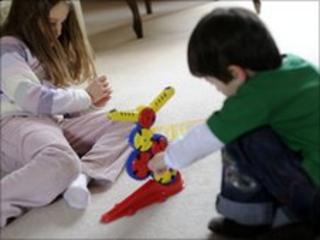 Families with disabled children are going without basics such as food and heating after being left in financial "dire straits", a charity has warned.
Contact a Family, which supports those who have a child with a disability, said the recession had left many families at "breaking point".
The charity asked 88 families in Scotland about their financial situation as part of a UK-wide survey.
A total of 19% said they had gone without food to try and make ends meet.
An additional 14% said they had sacrificed heating.
Nearly half - 46% - said they had fallen behind with loan payments, with 24% saying they needed to borrow money for basic household goods.
And 42% admitted to borrowing money from family and friends to pay for groceries, household goods and heating.
Three-quarters of those surveyed said they had missed out on days out, while two-thirds said they did not go on holidays.
Meanwhile, 44% of those surveyed said they feared their future financial situation would get worse.
Across the UK, almost a quarter - 23% - said they were going without heating, while 14% were going without food.
Ellenor Anwyl, director of Contact a Family Scotland, said: "Many Scottish families with disabled children are in financial dire straits.
"Everyone has been hit hard by the recession but families with disabled children were already having to cope with a harsh combination of extra living costs and the difficulty of holding down a job and caring.
"These financial pressures have been worsened by the economic slump and have left many at breaking point."
'Root causes'
The charity has called on the Scottish government to ensure its child poverty strategy acknowledged the financial challenges facing families with disabled children.
Liberal Democrat MSP Hugh O'Donnell also called on ministers to act, saying: "This damning report is an insight into the dire financial straits that families with disabled children find themselves living with in Scotland."
He added: "The Scottish government must tackle the postcode lottery that exists in terms of care and provision for families with disabled children in Scotland."
A Scottish government spokesman said ministers were "determined to address the root causes of inequality once and for all, and to bring about the change that our nation deserves".
He added: "In Scotland, we have innovative home-grown policies such as freezing council tax, abolishing prescription charges, school clothing grants and expanding concessionary travel schemes."