Inflatable colon at health event in Ruddington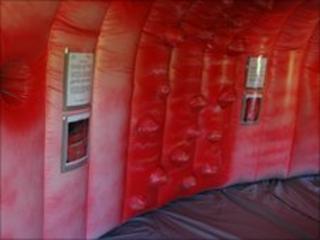 A 40ft (12m)-long inflatable scale replica of a human colon has been deployed to raise awareness of bowel cancer at an event in Nottinghamshire.
Organisers hoped it would reduce taboo and embarrassment about the subject.
People could walk through the inflatable to see how the colon functioned at Rush4Health, a health festival in Ruddington on Sunday.
The event also aimed to offer advice on healthy eating, getting fit and stopping smoking.
NHS Nottinghamshire County Director of Public Health Dr Chris Kenny said: "Approximately one in 20 people in the UK will develop bowel cancer during their lifetime.
"It is the third most common cancer in the UK, and the second leading cause of cancer deaths, with over 16,000 people dying from it each year.
"Research has shown that screening men and women for bowel cancer can reduce the mortality rate from bowel cancer by 16% in those invited for screening."