New pattern for seats on the London Underground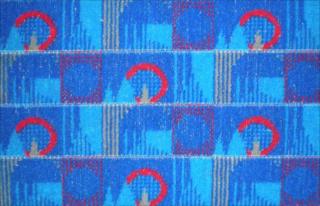 A pattern casting London landmarks in abstract shapes has beaten 350 entries to become the fabric for Tube seats.
The fabric, in red and blue, was created by design firm WallaceSewell and depicts iconic structures through circles, triangles and squares.
Known as moquette, it will first be used on refurbished Central Line trains from 2011, and other new trains.
The pattern has been named Barman after Christian Barman who commissioned the first moquettes for the Tube in 1936.
Mr Barman, who was the Royal Designer for Industry and London Transport's publicity manager between 1935 and 1941, was one of the first people to think about developing a brand for seat patterns.
Tube's design heritage
Richard Parry, strategy and commercial director for London Underground, said: "We chose the WallaceSewell entry because it captures the spirit of London."
Designers Emma Sewell and Harriet Wallace-Jones form the two-woman team of WallaceSewell.
Ms Wallace-Jones said: "We've always admired the world famous London Underground seating fabrics and colours.
"Nothing beats the feeling that you are going to be part of the Tube's rich design heritage."
They also created the moquette for the new London Overground trains, Croydon trams and the East London Transit.
Enid Marx, Marion Dorn, Paul Nash and Norbert Dutton were some of the designers who have come up with designs for the moquette.