Hastings' historic net huts get listing status upgrade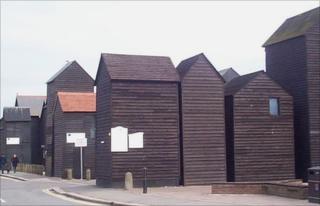 A set of landmark seafront structures in an East Sussex town have been awarded Grade II star listed status.
The net huts, located in The Stade in Hastings, had their listing upgraded by English Heritage because of their importance.
English Heritage said they were a rare example of "buildings intrinsic to the British coastal fishing industry".
The huts originate from the 16th Century but have been rebuilt a number of times.
They were first used to house nets for catching mackerel and herring.
Councillor Jay Kramer, deputy leader of Hastings Borough Council, said: "The net huts are very important to the history of Hastings and provide a distinctive backdrop to the fishing area and the Old Town.
"Making sure they are protected and here for many years to come is vital and I'm pleased to see that they have been given this upgrade."
The net huts were awarded Grade II status more than 30 years ago.