Upper house vote tests Japan PM Naoto Kan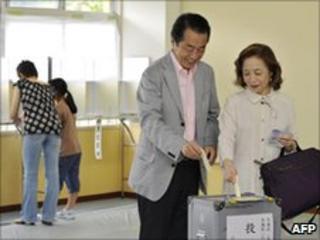 Japan is voting in upper house polls being seen as a referendum on the 10 months of rule by the Democratic Party of Japan (DPJ) led by PM Naoto Kan.
He told supporters on Saturday that Japan had to avoid financial collapse.
Mr Kan came to office last month and polls suggest the DPJ and its allies may lose their majority in the house.
A poor result could force him to seek new coalition partners, and may even see Mr Kan ousted by his party, says the BBC's Roland Buerk in Tokyo.
The DPJ came to power last August, ending half a century of dominance by its main rivals, the conservative Liberal Democratic Party.
Mr Kan succeeded Yukio Hatoyama who resigned abruptly after only nine months in office.
Polls close at 2000 (1100 GMT), with exit polls expected to indicate likely results immediately after that.
Sales tax row
In Sunday's poll, 121 seats, half of the upper house, are being contested.
Currently, the DPJ and its coalition ally, the People's New Party, control 122 seats. But opinion polls suggested the DPJ would lose some of its seats.
The campaign has been dominated by the prime minister's suggestion that Japan needs to discuss the possibility of an increase in sales tax - an issue that has divided voters, says our Tokyo correspondent.
Around 104 million Japanese are eligible to vote. More than 9.5 million voters had already cast early ballots on Sunday morning.
There were mixed messages from voters leaving the polls.
Junko Yoshimizu, 68, who cast her vote for the DPJ, said in Tokyo: "I still have hope for them and as such I want to give them a bit more time."
But Akira Ono, also 68, said after casting his vote: "They weren't as good as I was expecting and so I'm somewhat disappointed."
Addressing supporters in Tokyo as the campaign drew to a close, Mr Kan said the country had to make sure it avoided collapse.
"Japan's economy is 20 to 30 times bigger than that of Greece and its public debt is huge, so no country in the world could rescue Japan," Mr Kan said.
Japan has been borrowing money for two decades, trying to bring its economy out of stagnation.
The new government has seized greater control of policy-making from the powerful bureaucracy, our correspondent says.
But it has performed less well tackling Japan's big problems - the ageing population and the vast national debt.
Funding scandals and a row over an American military base brought down Mr Hatoyama.