Man held over three shootings in north and east London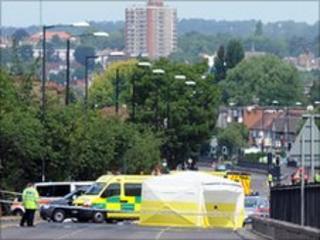 A man is being questioned over three shootings - two fatal - in north and east London.
Police arrested him in connection with the death of Nezir Golaj, 45, who was shot repeatedly near his home in Garth Road, Cricklewood, on Thursday morning.
Another shooting took place in Wightman Road, Hornsey, on Friday evening. Hours later a 58-year-old man was found with bullet wounds at a flat in Milton Avenue, Upton Park.
Police arrested a man on Friday.
Three shootings
The man, in his 50s, was arrested by armed officers in Bounds Green Road, Hornsey.
In the first incident Mr Golaj was shot several times on the six-lane A41 Hendon Way in Cricklewood at about 0830 BST on Thursday. Witnesses said he was shot through the window of his black Volkswagen car.
In the second incident police found a 43-year-old man with a bullet wound in Wightman Road at about 1915 BST on Friday. He was discharged from hospital on Saturday.
In the third incident officers found the body of the 58-year-old man in a flat in Milton Avenue. Police were alerted by a call from a friend. The victim is yet to be named.