Catalan protesters rally for greater autonomy in Spain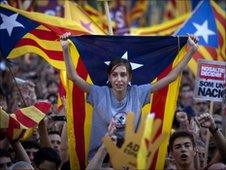 More than a million people held a march in Barcelona to call for greater autonomy for the Catalan region.
The demonstration comes a day after a constitutional court declared that there was no legal basis to recognise Catalonia as a nation.
The ruling also said the Catalan language should not take precedence over Castilian Spanish.
It followed a challenge to the region's statute by the opposition People's Party, which favours Spanish unity.
The statute of autonomy was approved by Catalan voters in a 2006 referendum.
It gave greater powers to the regional parliament in taxation and judicial matters.
BBC European regional analyst Sean Fanning says that just how much power should be devolved from Madrid is a constant process of negotiation and that the constitutional court acts as a referee.
Spanish TV reports showed crowds of many thousands in Barcelona waving flags and red and yellow banners reading "We are a nation".
"This demonstration is the start of independence that we want for our country (Catalonia)," one student told AFP news agency.