Raoul Moat's death dominates UK Sunday newspapers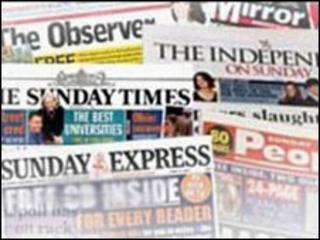 A day after the death of fugitive Raoul Moat, his story dominates Sunday's newspapers.
The Mail on Sunday says "weak justice" allowed Moat to go from "petty criminal" to violent man.
It blames "a reactive, overcautious police force and a court system which leans over backwards to respect human rights" for failing to stop him.
The Sunday Express says there is a lesson to learn: offenders freed after being convicted of violent crimes "should be placed on a register and monitored".
'Spectator sport?'
Several commentators question what the Moat affair says about our society.
Barbara Ellen, in the Observer, thinks "perhaps we should all feel a little sick" - that it was "more than a bit sleazy" to have watched the affair unfold minute-by-minute on television.
"Homicidal sprees as another form of spectator sport?" she wonders.
Joan Smith, in the Independent, says "what had begun as a tragedy descended into gruesome farce" as a "narcissistic criminal" was given huge publicity.
'Useless teachers'
Following a vote on women bishops, the Sunday Telegraph says it is "tragic" the Church of England Synod could not continue its long "tradition of compromise".
"In its determination to see women bishops, the majority has decided to sacrifice Church unity," it adds.
The Sunday Times dismisses an apparent suggestion from Ofsted's chairman that all schools need "a useless teacher" so children learn to question those in authority.
We can't accept "that incompetence is a healthy part of our eduction", it says.
'Fantasy football'
Ahead of the World Cup final in South Africa, various pundits give their predictions on the result.
England great Terry Butcher, in the Sunday Mirror, goes for the Dutch, claiming Spain's full-backs "are weak and liable to be isolated".
Blackburn boss Sam Allardyce disagrees, telling the News of the World that Spain will win because "they have the most talented players in the tournament".
Another former England player Chris Waddle agrees, telling the People that Spain "play the kind of fantasy football we all enjoy".