Tour of 'Profumo scandal' house Cliveden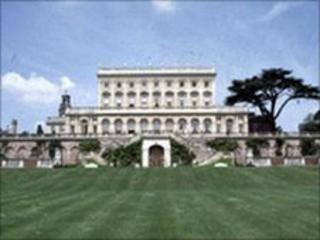 A country house linked to a 1960s political scandal which led to the resignation of a minister is offering its hotel guests a "scandal tour".
War minister John Profumo was at Cliveden, Buckinghamshire, when he first met 19-year-old Christine Keeler in 1961 and started a relationship.
Ms Keeler was also involved with a naval attache at the Soviet Embassy and Mr Profumo resigned in 1963.
On 30 July, Cliveden is offering a Profumo night and tour.
Cliveden, now a National Trust property, is offering a one-night, £497.50-for-two package that will include a scandal tour and talk by Profumo Affair expert Rupert Gavin.
Mr Profumo, who was married to the actress Valerie Hobson, lied in the House of Commons when first speaking about the affair.
After his resignation he worked for the rest of his life at an East End of London charity, being awarded a CBE in 1975.
Mr Profumo died, aged 91, in 2006.