Music fans gear up for T in the Park festival finale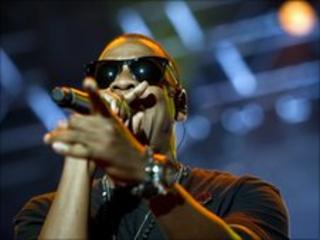 Thousands of music fans have been gearing up for the final day of the T in the Park festival.
US rapper Eminem rounded off the second day of the three-day event, performing his only UK date this summer.
Taking to the stage in Balado 50 minutes behind schedule, he received a rapturous reception - despite addressing the crowd as "Edinburgh".
Rockers Kasabian will be headlining on Sunday while rap artist Jay-Z will also be playing.
Festival director Geoff Ellis said the atmosphere at the Perth and Kinross event had been "fantastic" despite heavy rain.
Also performing on Saturday were dance crossover act The Prodigy and Scottish favourites The Proclaimers.
'Constant drizzle'
Speaking after the Proclaimers set, Charlie Reid said: "It does mean a lot. People do get sentimental about Scotland, but this does matter.
"To get acts like Jay-Z and Eminem, to me, as a Scot, artists like that coming here and going, I remember that.
"Getting Eminem to play his only UK festival show this year you've got to say, that's a big achievement."
The Proclaimers joined Paulo Nutini and up-and-coming Indie stars Kassidy to represent Scottish music at the festival.
Geoff Ellis said the rain had failed to dampen revellers' spirits.
He said: "It's not heavy, more of a constant drizzle, but people wear wellies to festivals now whether its baking sunshine or raining, so everyone seems perfectly attired for it.
"I had a look around the site earlier and everyone is really happy and looking forward to a good day of fantastic bands."
Mr Ellis paid tribute to 24-year-old David Catto who died at the festival on Friday night.
Mr Catto, from Newtonhill, near Aberdeen, had been making his way back from the main area to the campsite when he collapsed.
A post-mortem examination will take place next week.
Mr Ellis said: "Our condolences are with the young man's family and friends.
"It's a tragedy. Everyone is very touched by it."