Cumbrian farmer creates cornfield 'battle'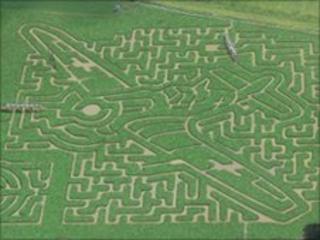 A farmer has paid tribute to the pilots who took part in the Battle of Britain by creating a battle in a cornfield.
Graham Wadsworth, of Kendal, has "carved" out a "maize maze" of a British Spitfire in pursuit of an invading German Messerschmitt 109.
His creation marks the 70th anniversary of the conflict in which British and Allied airmen took on the Luftwaffe.
It was created with a lawnmower and strimmer and stretches over three miles at Raines Hall Farm in Sedgwick.
Visitors to the farm will be able to take tractor rides to the highest part of the farm for an overview of the creation.
Sparks interest
Mr Wadsworth, 40, said: "The Battle of Britain happened before I was born but I think it's important that it isn't forgotten and that young people get the chance to learn about it in a fun environment.
"We get lots of young families and young people visiting the farm and we've got clues and puzzles for them to complete as they walk around.
"If this sparks an interest in this period of our history, that would be great."
The design will be open to the public from 15 July until October when it will be harvested and made into silage for a local dairy farmer.