Blackpool flat death victim was 'viciously assaulted'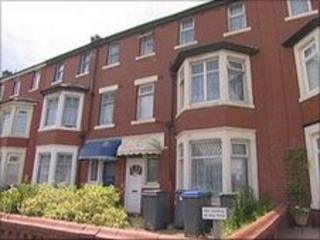 A 48-year-old man found dead at a flat in Blackpool had been subjected to a vicious attack, police have said.
Detectives are continuing to question three men on suspicion of the murder of the man, whose body was found at the property on Friday night.
The three - aged 20, 32 and 36 - were arrested along with a 16-year-old girl, who has since been released on bail.
Forensic investigators remained at the scene on Sunday trying to establish the circumstances surrounding the death.
Detectives believe the victim, who has not been named, suffered his injuries inside the flat on Friday night.
On Sunday, they were given a further 36 hours to question the men to try to find out how he was injured.
Det Supt Kevin Toole, leading the inquiry, said he believed the man had only lived at the property for five days.
"He's been subjected to a particularly vicious attack and I want to get to the bottom of what's happened," he told the BBC.
"I've got forensic scientists examining the scene. I'm trying to interpret the crime scene to establish what took place and hopefully over the next day or so the picture will become clearer."
Anyone with information is asked to contact Lancashire Police.