Plaque to honour fallen Derbyshire soldiers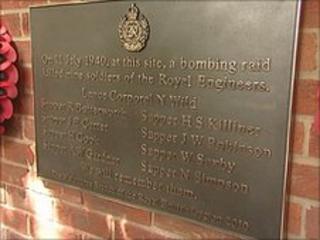 A plaque to honour nine Royal Engineers killed in a bomb blast in Derbyshire 70 years ago has been unveiled.
They were in a house in Melbourne on 11 July 1940 when the bomb struck.
Eight died immediately and one passed away at the Derbyshire Royal Infirmary a short time later. A tenth soldier was injured, but survived.
The plaque was erected at the Melbourne Community Care Centre with a short service attended by families of the fallen soldiers on Sunday.
'Poignant opportunity'
The soldiers involved had been working on building the Melbourne military railway at the time of the blast.
The eight who died were buried in Melbourne Cemetery.
A fundraising campaign to honour them was led by local members of the Royal British Legion.
The £1,200 cost of the plaque was met by donations from organisations, individuals and businesses.
Councillor Neil Atkin, Chairman of South Derbyshire District Council, said: "It is an event synonymous with South Derbyshire history, and this plaque will ensure that future generations will always remember what happened here."