Salford boy warned off lighters after house fire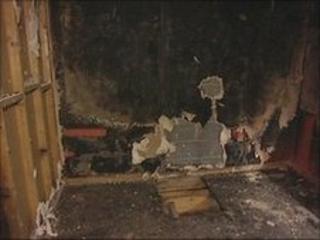 A three-year-old boy who started a fire which almost destroyed his family home has promised not to play with fire again, his mother has said.
Kenzie Oakley was playing with a cigarette lighter at his home in Pendleton, Salford, when he set a bedroom alight on Saturday.
A smoke alarm alerted his sister, Rebecca Foster, who led six other members of her family to safety.
Greater Manchester Fire Service said they were lucky to be alive.
Tragic consequences
"The fact that this family had working smoke alarms in the house gave them early warning that this fire had started that enabled them to make their escape," said spokesman Tony Lander.
"If people do smoke in the home then what we would advocate is keep your smoking materials out of range and out of sight of young children.
"They sometimes have a fascination with fire and inadvertently they can set fire to a property and this can have tragic consequences."
Fire crews were called to the semi-detached property on Almond Close at about 0920 BST and found a first floor bedroom well alight.
But 22-year-old Ms Foster had already led her mother, Debbie Oakes, to safety along with five children aged between a few months and 15.
After praising her daughter for her quick-thinking, Mrs Oakes told the BBC her son had learnt his lesson.
"He just said to me 'sorry' and he's going to buy me a flat for me and him and the other kids," she said.
"He's told me he's never going to play with matches again, or fire."
The fire service is urging anyone without a fire alarm to contact them for a free home fire risk assessment.