Scotland's economic recovery 'slowing' down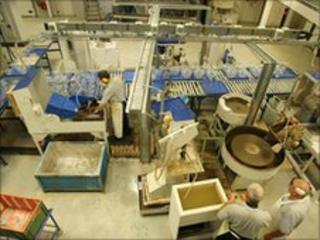 The recovery in Scotland's private sector slowed down last month, new figures have revealed.
A report by the Bank of Scotland found economic recovery north of the border was still lagging behind the rest of the UK.
The number of new orders and employment growth lost momentum in June while performance levels between services and goods producers widened.
Despite the trend, the private sector continued to expand over the month.
June also saw the biggest ever rise in manufacturing output in Scotland.
'Slower rate'
Businesses that responded to the survey said their activity had increased thanks to new orders.
However, they also said the cost of raw materials was going up faster in Scotland than elsewhere in the UK.
Business activity increased for the 12th month in a row while the number of private sector employees grew for the fifth month.
Donald MacRae, chief economist at the bank, said: "The recovery in the Scottish economy slowed in June.
"However, overall growth was achieved by a best ever rise in manufacturing output augmenting only marginal growth in the service sector.
"While the pace of input cost inflation faced by businesses moderated, average costs again inflated at a much stronger pace than the UK.
"Recovery in the Scottish economy is under way, albeit at a slower rate than the UK as a whole."