Traditionalists "not giving up" in women bishops row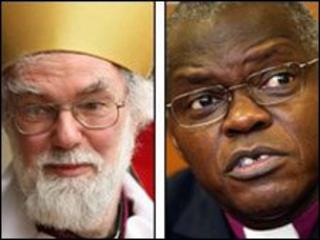 The Church of England's ruling synod is due to return to the women bishops debate, with little chance of major concessions to traditionalists.
Little remains to limit the power of women bishops in the legislation under consideration on Monday.
But objectors say they have not given up trying to gain exemptions from serving under women bishops.
Proposals to create a class of male-only bishops to oversee traditionalist parishes were rejected on Saturday.
The Archbishop of Canterbury, Rowan Williams, and Archbishop of York, John Sentamu, had put their personal prestige behind the compromise plan, which would have allowed parishes unwilling to serve under a woman bishop to call upon the oversight of a male alternative.
It would also have given that alternative bishop considerable legally-backed independence and autonomy as part of a "joint jurisdiction" over those parishes.
Liberal Anglicans opposed the plan as reducing women bishops to "second class" status by undermining their authority.
Growing impatience among supporters of the ordination of women as bishops meant that the archbishops took a gamble by putting their names to a compromise proposal that seemed likely to fail.
The proposal gained a majority of votes in the synod as a whole, but failed because clergy - who vote separately from lay people and bishops - defeated it by just five votes.
One senior figure, the Bishop of Winchester Michael Scott-Joynt, said the true significance of the vote lay in the fact that a majority of the synod had accepted it.
Election hope
The vote does appear to indicate widespread unease within the synod about forcing traditionalists to accept oversight from women bishops.
However, the strength of support for the proposal backed by Dr Williams certainly reflects respect for his leadership and for his personal efforts to preserve unity in the Church.
The overall vote has encouraged traditionalist groups to try to find a way under Church law to revive the archbishops' proposal, and they have asked Archbishops Williams and Sentamu for a meeting to discuss the possibility.
As things stand they have scant hope of gaining significant exemption from serving under a woman bishop.
The legislation synod members will consider on Monday contains only a relatively weak code of practice, guiding women bishops in their dealings with traditionalists.
Traditionalists do have one further hope - that the synod elections due to take place might return a greater number of members willing to give parishes a choice of bishop.