Report backs French minister Woerth on tax claims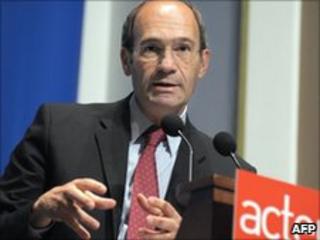 French tax inspectors have cleared Labour Minister Eric Woerth of helping France's richest woman to evade taxes.
A government report said Mr Woerth did not use his position as budget minister to spare L'Oreal heiress Liliane Bettencourt from tax inspections.
Mr Woerth was named in secretly recorded talks which appear to refer to her having undeclared bank accounts.
He and President Nicolas Sarkozy have been embroiled in a scandal involving political donations by Mrs Bettencourt.
Sarkozy TV statement
However, Mr Woerth and Mr Sarkozy both still face questions over claims by Mrs Bettencourt's former accountant that she made large cash donations towards Mr Sarkozy's 2007 presidential campaign.
The sums were far more than the legal limit, it is claimed.
Those allegations, which Mr Woerth and President Sarkozy both deny, are the subject of a separate investigation.
"During the period when he was budget minister, (Mr Woerth) did not intervene in the services under his authority to demand, prevent or influence a decision or an inspection affecting Mrs Bettencourt," the report from the General Financial Inspection office (IGF) said.
A spokesman for the Socialist Party said the report proved nothing as it was simply the finance ministry probing itself.
President Sarkozy is due to make a televised statement on Monday evening, speaking directly for the first time about the controversy, the biggest to hit his government so far.
Correspondents say the speech will come at a delicate time. Mr Woerth is due to launch a sensitive pensions bill on Tuesday - the centrepiece of Mr Sarkozy's reform agenda.