T in the Park festival ends with fireworks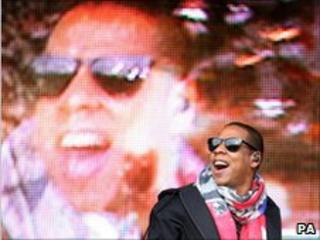 Fireworks have marked the end of Scotland's largest music festival with headliners Kasabian the final performers at T in the Park.
The three-day festival at Balado airfield in Perth and Kinross was attended by 85,000 fans.
Rappers Jay-Z and Eminem, Muse, Black Eyed Peas and The Proclaimers were among scores of acts to perform.
However, the event was marred by the death of 24-year-old festival-goer David Catto on Friday.
Mr Catto, from Newtonhill, near Aberdeen, had been making his way back from the main area to the campsite when he collapsed.
A post-mortem examination will take place this week.
Arrests down
Crowds enjoyed the sunshine on Sunday after the rain of previous days.
The 17th T in the Park kicked off on Friday with Faithless and Muse the big draws on the main stage.
Saturday saw US rapper Eminem winning the fans over, despite addressing them as "Edinburgh".
Also performing on Saturday were Scottish favourites The Proclaimers, who were proud of the calibre of acts the festival had attracted.
Charlie Reid said: "It does mean a lot. People do get sentimental about Scotland, but this does matter.
"Getting Eminem to play his only UK festival show this year you've got to say, that's a big achievement."
Before Kasabian closed the festival, Jay-Z played to the capacity crowd, thanking them for "making me feel at home".
He dedicated his hit Hard Knock Life to the memories of fellow rappers Notorious BIG, Tupac Shakur and Jam Master Jay.
The festival saw fewer arrests than last year, with Tayside Police saying 56 people had been arrested.
Chief Superintendent Craig Suttie said: "Every year we have visitors from police forces across the UK who come to take back learning points from the way that we police T in the Park, and the exceptional partnership working that is carried out at the festival."
The force has appealed to witnesses to a sexual assault near to the bus parking area at the site on Saturday.
A woman was knocked to the ground and assaulted, but her attacker was disturbed by two other women.