Santander buys SEB's German retail banking operations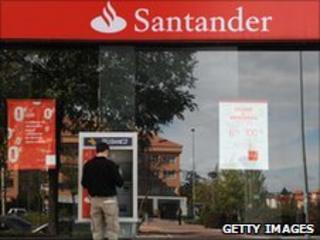 Spanish bank Santander has signed an agreement to buy the German branch network of Sweden's SEB for 555m euros (£466.5m, $699m).
The sale encompasses 173 branches and one million customers, and will double Santander's presence in the country.
The assets represent about half of SEB's business in Germany, but only about 6% of its total group revenues.
The Swedish bank said it wants to concentrate on merchant banking and wealth management in Germany.
The transaction will help it slim down, freeing up much needed capital, it added.
Growing ambitions
Santander's acquisition is its second major attempt at expanding its branch network in a month.
In June, Santander submitted an offer to buy the UK's Royal Bank of Scotland's (RBS) Williams & Glyn's subsidiary.
RBS is selling the unit - which includes 318 branches - after the European Commission ruled last year that it must dispose of the business as a condition of being bailed out by the UK government.
Santander already has a substantial presence on the UK High Street having bought Abbey National, Alliance & Leicester and Bradford & Bingley in the past two years.