Poll blow raises Japanese economy fears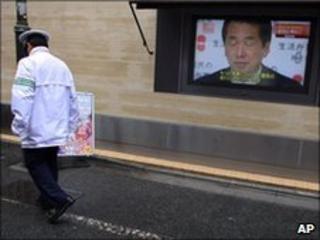 Naoto Kan has been Japan's prime minister since only last month, but already he has been dealt a stinging rebuke by the electorate.
His Democratic Party of Japan (DPJ) and its tiny coalition ally lost their majority in the upper house of parliament.
Japan has already suffered two decades of economic stagnation; now it faces political stagnation too unless Mr Kan can persuade small parties to help him pass laws.
Worse, this election may well have put paid, for now, to any thoughts of tackling Japan's massive public debt.
It is already nearly twice the size of the economy's annual output, and growing.
This year the government expects to borrow around as much as it raises from taxes.
The prime minister had argued that without action the country faced a Greece-style meltdown and he suggested doubling sales tax to 10%.
During the latter stages of the campaign Mr Kan rowed back, saying any tax increase would not come for several years.
It may be that it was the appearance of dithering and weak leadership that turned voters against the prime minister.
But the message being digested by Japan's politicians is that talking about austerity is poison at the ballot box.
Debt crisis
Opinion is divided about the threat posed by the country's debt.
Many feel Mr Kan's warnings of an impending crisis may have gone too far because 95% of the government's bonds are held by Japanese savers and institutions.
They are much less likely to cut and run than the foreign creditors to which many other countries owe money.
But doom-mongers argue that as Japan's population continues to age the savings rate is likely to decline further, forcing Japan eventually to borrow more from abroad.
The higher interest rates demanded could make servicing the debt unsustainable, tipping the country into the abyss.
What is not in doubt is if the crunch comes it would dwarf the problems posed by Greece.
Japan is the world's second biggest economy, and in a crisis could be expected to draw in its resources, massive corporate investment abroad and a huge stake in the debt of the US government.
Creative destruction?
For the Democratic Party of Japan the upper house election is a bitter disappointment.
Just 10 months ago it swept to power, ousting the conservative Liberal Democratic Party which dominated the post-war era.
The DPJ promised to make politics more transparent and to build a European-style welfare state.
Since then much has been done to take control of policy-making out of the hands of bureaucrats, but the government has performed less well on Japan's big problems, the aging population and the economy.
And the funding scandals as well as a row over a US military base which brought down Prime Minister Yukio Hatoyama after less than nine months have added to the disappointment.
Some analysts characterise what is going on as creative destruction, with Japanese politics still in the destructive phase.
Last year the iron triangle of the LDP, the bureaucracy and big business which had endured for decades was shattered.
One day a functioning and responsive multi-party system may emerge.
But before that both the LDP and the DPJ - both coalitions of interest groups across the political spectrum - may need to be broken and reformed along more coherent ideological lines.
Several smaller parties have already split from the LDP.
As for Naoto Kan, he has said he will not be resigning as prime minister after this setback.
But his Democratic Party of Japan is due to hold a leadership contest in September.
That is when the two-year term he inherited from Yukio Hatoyama expires and he looks vulnerable to a challenge.