Fire Brigades Union to fight Warwickshire fire cuts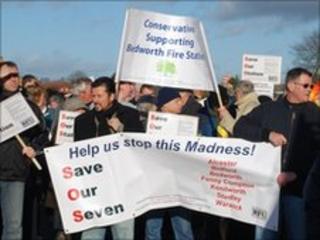 The Fire Brigades Union (FBU) has said it will fight plans to close four part-time fire stations in Warwickshire.
It said the council planned to close Warwick, Bidford, Studley and Brinklow stations to save money.
Mark Rattray from the FBU said the closures would have a "devastating effect on local communities".
Warwickshire County Council said the changes were not designed to cut costs but to improve services. It will reveal later which stations it wants to close.
It has previously said it had taken into account the views of people in the county.
Mr Rattray said: "We can convince them it's the wrong move and to go back to the chiefs and have efficiency savings elsewhere."
Preferred option
BBC Coventry and Warwickshire revealed on Thursday that four out of seven stations under review could close.
It said three options were being considered by the council.
One option listed Warwick, Bidford, Studley and Brinklow for closure with a smaller vehicle replacing a fire engine at Bedworth station.
A second option includes the closure of stations at Warwick and Brinklow, with Bedworth losing one of its engines.
The final option involves the closure of at least two stations, though it is not clear which two.
The FBU said the first option was the council's current preferred option.
'Unfair' speculation
A spokesperson for the council said: "Warwickshire Fire and Rescue Service has now completed a set of alternative proposals for the modernisation and improvement of the county's Fire and Rescue Service.
"It considers the views of the people of the county and includes best practice and the experience of Fire and Rescue Services across the UK."
It said the proposals were due to be published on Monday and the preferred option would be chosen by the full council at a meeting on 20 July.
It said it would be unfair to to the public and service personnel to speculate on the choice beforehand.