Kent police probe into Isle of Sheppey farm fire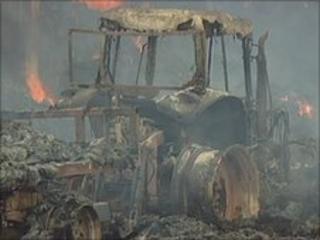 An investigation is to be carried out into a large fire that swept through a farm on the Isle of Sheppey in Kent.
The blaze destroyed thousands of tonnes of cattle feed and an estimated £750,000 of farm machinery.
About 100 firefighters tackled the fire in Leysdown Road which began at about 0245 BST on Sunday and was brought under control 12 hours later.
The barn, which contained 3,000 tonnes of hay, was allowed to burn out under controlled conditions.
Insp Alan Rogers, of Kent Police, said: "A consideration that we will need to make is that this may be a malicious fire but that will come as part of the investigation."
Farmer John Burder said: "We can get the equipment back quite quickly but the biggest concern is the lack of feed for the animals this season."