More beat training for Scotland's police recruits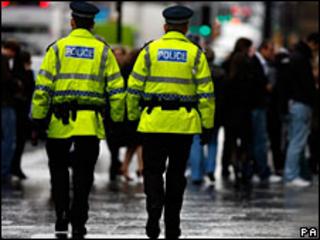 Police recruits in Scotland will spend less time in the classroom and more on the beat in an overhaul of training.
The Scottish Police Services Authority (SPSA) said its 15 week residential course in Fife had been cut to 13.
The SPSA said the two-week reduction in overall time spent at the college "would see a direct increase in time spent policing Scotland's streets".
Director of Scotland's police college, John Geates, said the change would allow recruits to be better prepared.
The changes were introduced after an extensive review involving the Scottish Police College, the Association of Chief Police Officers in Scotland (Acpos). and the probationer training programme.
Probationers will spend 10 weeks undergoing intensive tuition at the college followed by 15 weeks out on the beat, followed by a further three weeks at the college for fitness and skills tests.
There will also be a greater emphasis on counter-terrorism.
Commenting on the course changes Mr Geates said it would "expose probationers to the realities of their actual working environment at an earlier stage".
He added: "Policing is about judgement, decision-making and relationship-building as well as knowledge of the law and the physical capability to intervene when action is needed.
"Our job is to ensure that the people we entrust with the uniform and the badge of a Scottish police officer are as ready as they can be for all those tasks.
"Their first 10 weeks at the college will give them the preparation they need to respond to incidents, and their tutor constables will then provide on-the-job guidance and help to further develop their skills.
"The increased operational time then allows students the vital opportunity to consider the link between the theoretical learning they received at the college and the practical application of skills in a live environment.
"The approach is more comprehensive and, after completing their final assessment, probationers will be better prepared for the many challenges that come from policing the streets of our communities."