Record deal for singing Chelsea Pensioners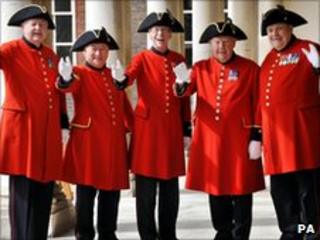 A group of Chelsea Pensioners have signed a record deal and are to release an album.
The veterans, who have an average age of 79, have seen action during World War II and have served in Palestine and Northern Ireland.
Now the seven singers, based in Chelsea, west London, are releasing an album of military-inspired music.
Earnings from sales will go to the Royal Hospital Appeal, which aims to improve their living quarters.
Band member David Poultney, 81, said: "There's so much talent hidden amongst these men.
"It'll do a world of good to them and the hospital."
Fellow singer Paddy Fox, 78, said: "I sing in the corridors which is how they found me."
'Amazing lives'
The oldest band member is 88-year-old John Shuter, who served with the Royal Artillery and holds five medals.
Their producer, Nick Patrick, said: "I was nervous. These guys have all had amazing lives but I didn't know if they could cut a record.
"Suddenly, David Poultney stood up and started to sing Danny Boy unaccompanied. There wasn't a dry eye in the room.
"It was a pivotal moment for everybody."
He added: "That's when I knew it would work."
The album, entitled Men In Scarlet, is due for release in November.
The group had a top five song, The Soldiers, last year.