Rescue passengers perform karaoke on River Tyne cruiser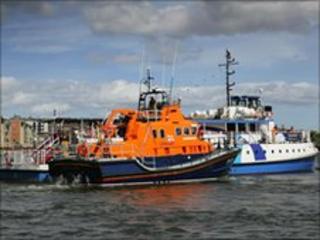 Passengers on a pleasure cruiser sang karaoke while waiting to be rescued from the River Tyne after the vessel broke down.
The Tynemouth lifeboat was called in to tow The Latis, which had 111 Chinese students and seven crew on board, to safety on Sunday afternoon.
The 193-tonne cruiser, reported engine failure close to the Felling area of Gateshead, Humber coastguard said.
Rescuers said the students were "no worse for their experience".
The vessel was towed to Newcastle where the passengers disembarked. No-one was injured.
Tynemouth RNLI spokesman Adrian Don said: "The Latis could have been in a very dangerous situation as there were strong winds that could have blown the vessel into danger.
"Her crew acted quickly to prevent this happening and managed to get the vessel out of immediate danger until help arrived.
"While the rescue operation was taking place, the Latis' passengers, all Chinese students, kept themselves amused by singing karaoke and were no worse for their experience."