Parents' fears prompt Powys schools closure meeting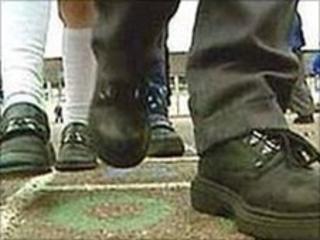 Parents concerned about a schools reorganisation programme in Powys are staging a public meeting.
The controversial plans have been drawn up by Powys County Council and could see the closure of several secondary schools.
The meeting comes at a critical stage in the ongoing public consultation about the process.
It is being held by members of the Llanidloes Education Action Group (LEAG).
The group was set up in response to a leaked council document about modernising schools in the county.
Llanfair, Caereinion, Llanfyllin and Llanidloes schools, among others, could be earmarked for closure.
The latest council report identifies seven potential options, with all 13 schools under review.
It also considers a 'confederated' approach with schools pooling resources.
The meeting will take place at Llanidloes Community Centre on 14 July at 1900 BST.
Joe Purches, who is chair of the LEAG and has a child at Llanidloes High School, said: "It's a response to the questionnaire the council has sent out to stakeholders and is a chance to discuss the modernisation report.
"Parents do not want Llanidloes to close - it is a good school and pupils will have to travel up to one hour to go to Newtown if it does.
"This travel time will kill all the after-school clubs like orchestras and if the school closes it will also affect the future of the local primary school as parents won't move to the area."
Montgomeryshire MP Glyn Davies said he was following the debate, which was an important one for Powys.
He said: "People who are concerned should go to this meeting to find out the latest position.
"The event will involve very serious discussion and people will be better informed about the situation and better able to answer the questionnaires that have been sent out."
Powys County Council board member for schools, Councillor David Jones, said secondary schools in Powys are facing their "greatest-ever" challenge.
He said: "Our schools have delivered high quality services for generations but it's becoming clear that they are facing serious financial decline and are in danger of becoming unsustainable.
"Falling pupil numbers, changes in education and legislative requirements and a need to provide sustainable Welsh medium provision and transform post-16 learning in the county is putting our schools in a perilous position.
"Pupil numbers have been falling for the past five years and are predicted to continue that trend to 2015. As a result 15% of secondary school places are surplus at a cost of £1m per annum and that percentage will increase to 25% by 2015 doubling the annual cost."
He said the modernisation document would help produce: "The highest quality bilingual provision with a broad range of learning opportunities, supported by world-class facilities and technology that will enable all Powys learners to develop their skills to the highest level."
The strategic document sets out a range of options for the future. A formal consultation will follow in the Autumn.