Show of support for multi-million pound Redcar revamp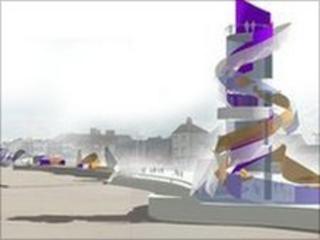 More than 3,000 people turned out for a display of plans for a multi-million pound revamp of the seafront at Redcar.
The £36.9m scheme will include a striking 80ft vertical pier, strengthened flood defences, and a new promenade.
Redcar and Cleveland Council approved the plans and put them on display at the Esplanade.
A council spokesman said 300 people had filled in questionnaires and only a handful made "negative comments."
Work will begin on the development in October this year and will take two years.
Councillor Mark Hannon, cabinet member for economic development said: "The response to the exhibition has been fantastic and will really help in taking the proposals forward.
"The feedback was really positive and highlighted the support for the investment in the town and the ambitious plans to develop and improve the seafront for residents, businesses and visitors."