Another Beech Avenue tree to be felled at Kingston Lacy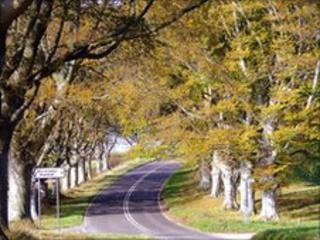 Work to conserve an historic avenue in Kingston Lacy will continue with the felling of one tree.
Originally 700 beech trees were planted on Beech Avenue in 1835.
The National Trust, which owns the avenue, says the trees are now collapsing and dying from old age, disease and climate changes.
There will be temporary traffic controls on the B3082, Wimborne Minster, while the work is carried out by tree surgeons.
Although some trees are being felled others are only having branches removed.
Nigel Chalk, gardens and countryside manager for the trust, said: "We know how much people love this place and the work will maintain the avenue for as long as possible, but unfortunately we have no choice but to remove some of these trees.
"We are replanting an avenue of hornbeams as we go along [which] provide the same seasonal colour and effect as beech, but they are much more tolerant of these constantly changing conditions."
The maintenance project could take up to 30 years to complete.