Wind foils bid to ring osprey chicks at Loch Garten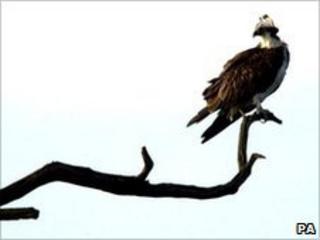 The weather has foiled attempts to ring young osprey at a RSPB reserve for the first time since the 1970s.
Staff at Loch Garten, near Aviemore, had hoped to fit rings to three fledglings and satellite tags to two.
A week of strong winds first made it too risky to put up a long ladder to the nest.
There were hopes later of ringing them as they tried to shelter from rain, but it brightened and the young dried off before the nest could be reached.
Site manager Richard Thaxton has told followers of a web cam streaming live images from the nest that staff were "very disappointed".
He said the decision not to press ahead with the ringing and tagging was in the best interests of the osprey.
There were concerns the fledglings, emboldened by the extra lift from high winds, might take fright and attempt to fly from the nest before they were ready.
The satellite tags would have allowed the RSPB to track the birds' migration to Africa.