Trident fishing boat sinking inquiry nears end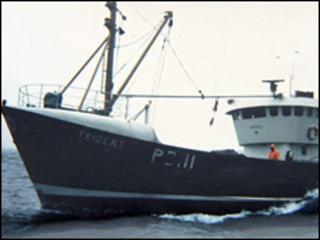 The most probable cause of the loss of a Peterhead trawler 36 years ago was a "sudden and catastrophic" capsize in heavy seas, an inquiry has heard.
The view came in a closing submission on behalf of the Advocate General into the sinking of the Trident in 1974, in which all seven of its crew died.
The submission also said there was no reliable evidence to support a finding the loss of the Trident was caused by deficiencies in her design stability.
The inquiry is due to end this week.
The trawler was heading home to Peterhead when it sank off Caithness in October, 1974.
Ailsa Wilson QC, on behalf of the Advocate General, submitted that the capsize most likely occurred within two or three seconds and was followed by rapid sinking. She also said 16 other "loss scenarios" could be eliminated.
Ms Wilson also stated new evidence on the prevailing weather and sea conditions at the time had led to "significantly different" conclusions than those arrived at in the original inquiry, as a result of improved weather "hindcasting" and tank testing.
Inquiry delays
The inquiry began in October last year but it has been hit by a series of delays.
Some of the crew's widows recently withdrew from the hearing after claiming an important government report had been hidden from them for more than 30 years.
The original inquiry in 1975 concluded the trawler had been hit by a succession of waves.
But the men's families have always maintained the vessel was unstable.
A fresh inquiry was ordered when the wreck of the Trident was discovered off Wick in 2001.
The inquiry in Aberdeen's city chambers is scheduled to hear closing submissions from other parties this week and is expected to conclude on 15 July.