Gove faces school axe challenge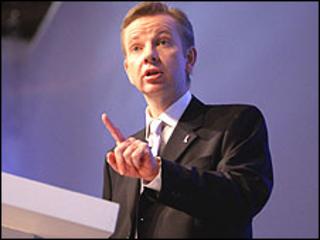 Michael Gove is to face tough questions from MPs over the mishandling of the axing of the school building programme.
MPs will be asking England's Education Secretary to reconsider some of his decisions about cancelling projects.
Mr Gove is to release a statement this afternoon in an attempt to end the confusion.
Shadow Education Secretary Ed Balls has written to Mr Gove asking him to explain how decisions on stopping school building projects were reached.
A construction industry spokesman also says that contractors need clarification on how decisions were reached so they can decide on whether to make claims for compensation.
Pressure
Last week's announcement of the scrapping of the Building Schools for the Future programme descended into chaos as a series of errors were discovered in the lists showing which projects were going to be cancelled.
Mr Gove apologised to the House of Commons and to local authority leaders for the confusion his statement caused.
Growing concerns about the reliability of the list of schools affected have pushed MPs, including Conservatives, to raise questions about how decisions were taken.
MPs will be pressing the education secretary to explain which criteria were applied to decisions about continuing or scrapping individual school rebuilding projects.
The Liberal Democrat deputy leader Simon Hughes has also distanced himself from the scrapping of the school renewal project - attacking the government's plan to direct funds towards opening free schools.
"It would be a nonsense to take money that could be used for improving existing schools to create new schools where, on the ground, the will of the local community is for the existing schools to continue," he said.
Mr Balls has written to Mr Gove asking him to explain what advice he had received in making these decisions - and whether he had been warned about the risk of compensation claims from cancellations.
Noble Francis, economist at the Construction Products Association, says construction companies want to end the confusion about what is going to happen to the school building programme.
He said there would need to be clarification about how specific decisions were reached - with estimates that building firms had "wasted" £100m in winning bids that have now been cancelled.
Mr Francis says that the industry expects an overall loss of £39bn from the scrapping of the scheme.
He highlighted concerns about where the dividing lines had been placed for stopping projects, when it now appeared that there had been projects which had reached financial close which have been cancelled.