Fishermen netting summer tourists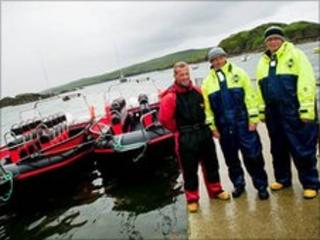 Two fishermen who give up catching shellfish over the summer to offer boat trips have expanded their business.
Roger Tebay and Paul Murray, both from Scourie, in Sutherland, have taken tourists to the island of Handa since 2008.
The uninhabited isle is home to 200,000 seabirds and is a major draw for wildlife enthusiasts.
The two men have now added a third boat to their tourism business.
Teaming up with diver James Forsyth, they plan to add wildlife tours along the Sutherland coast to their operation.
Public development agency Highlands and Islands Enterprise (HIE) gave a £23,500 grant to the fishermen to help them set up the business two years ago.
Morag Goodfellow, of HIE, said the pair were passionate about their area's natural environment.
She added: "They themselves choose to fish sustainably and conserve fish stocks over the summer months by focusing on the tourism side of the business."