Three-day strike at Wrexham school is averted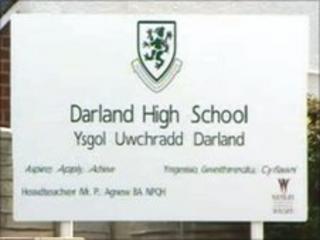 Three days of strike action at a Wrexham school have been called off after talks between union, school and council officials.
Teachers at Darland High School were due to take action on Wednesday, having already gone on strike twice following a dispute over job losses.
A joint statement said a "workable solution" had been reached and the school would stay open.
The union said its members would meet again to secure a permanent solution.
Teachers at the school went on strike in May over plans to cut eight posts to ease the school's deficit.
A strike was also held last week over plans to reduce staff's pay if they continued refusing to attend staff meetings and supervising pupil breaks.
The statement said: "A workable solution was reached which has resulted in the proposed three days of strike action to be called off.
"The NASUWT will meet with its members on Thursday 15th July, with a view towards a more permanent solution.
"The governing body is therefore pleased to announce that the school will be open to all students between now and the end of term."
Speaking before the talks the union's Wales organiser, Rex Phillips, had said: "We're hoping to find a way forward so there will be no need for our members to go on strike tomorrow.
"We offered to have talks on Friday, and we were disappointed when we were told that no one was available."
He said the union was proposing that the warning letter about docking teachers' pay should be "parked" so that further talks could take place.
'Pointless'
"It seems pointless to have a stand-off when there's only one week of the term left," he added.
"If the letter is parked, it will give us the chance to sit down and work out how we resolve this dispute over the summer holiday."
Mr Phillips acknowledged that there had been no compulsory redundancies at the school, but he said five teaching posts had been lost.
Wrexham council and the school said they had nothing to add to a joint statement issued last week in which they said the education authority had been seeking to end the industrial action that led to the first strike in May.
Officials said although substantial efforts had been made to avoid compulsory redundancies some staff were continuing to engage in the dispute through "non attendance at staff meetings" and "a refusal to carry out supervision duties."
The statement continued: "They were informed that, in the event of them continuing with only partial performance of their contract beyond Monday, 28 June, there would be financial consequences."