Wife's farewell to Dumfries soldier killed by blast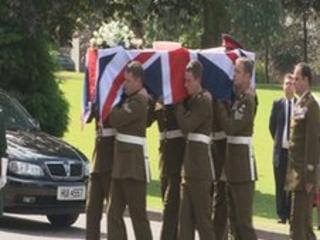 The wife of a Dumfries soldier killed by an explosion in Afghanistan has told his funeral she will always be "so proud" of her husband.
Bombardier Stephen Gilbert, 36, was fatally injured while on patrol in the Helmand province on 10 June.
His wife, Jackie, told a funeral service at the Crichton Church in Dumfries they were "truly happy" and "a little bit crazy".
She said she was grateful for the time they had had together before he died.
Bombadier Gilbert served with the 4th Regiment Royal Artillery based in Topcliffe, North Yorkshire, but grew up in the south west of Scotland.
He died in hospital in Birmingham on 26 June - more than two weeks after the blast in which he was injured.
Mrs Gilbert said he had fought until the end to try to stay alive for her sake and for their two sons.
'Passion and spirit'
"I don't pretend to understand why this has happened but I do know this is something we had no power over," she said.
"I am and always will be so proud of Steve, he will be in my heart and mind forever.
"I will be the person I am because there will always have been us."
The funeral was also attended by Maj Christopher Lovick, second in command of Bombadier Gilbert's regiment, who paid tribute to an "exceptional" officer.
"He died, as he had lived, with passion and spirit," he said.
"Stephen Gilbert was not only a first class soldier but a true leader who led his men into battle with courage, dedication and heart-felt compassion.
"He was a rising star who was hugely popular with those who knew him, his sudden departure will be keenly felt by all his friends and comrades."