BP shares rise on rumours of possible asset sales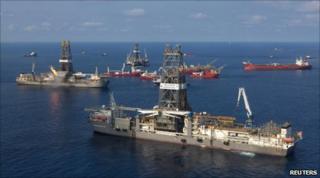 BP shares have risen sharply on speculation it may have buyers lined up for possible asset sales.
The UK oil firm is thought to be planning the sell-offs in order to fund cost of the Gulf of Mexico clean-up, which has now reached $3.5bn (£2.3bn).
BP shares closed up 9.5% at 399.4p on Monday. That is more than 30% higher than the low hit on 25 June, but 40% off its pre-spill peak.
Among the rumoured buyers are PetroChina and US oil firm Apache Corp.
Competition issues
Speculation also continues that BP may become the target of a takeover - either friendly or hostile.
ExxonMobil is known to be eyeing its crisis-hit rival, as well as other oil majors such as Chevron, although any buyout would need approval from competition authorities in the US and, most critically, Europe.
BP chief executive Tony Hayward has also been soliciting friendly investments from sovereign wealth funds in the Middle East and elsewhere, with Kuwait among the longstanding shareholders.
On schedule
Markets were also encouraged by faster progress by BP in dealing with the oil spill.
The company is preparing to fit a replacement cap over the leaking pipe on the ocean floor, which it hopes will be tighter than the current cap and will capture all of the oil flow.
Meanwhile, the drilling of two relief wells - which will be used to cut off the oil flow altogether - is on schedule, and expected to be completed in early August.